Whether you call it a pound sign, number sign, or octothorpe (you nerd), # is more frequently referred to as the hashtag symbol.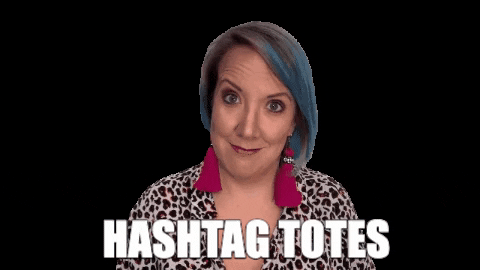 While hashtags began in IRC chatrooms and flourished on Twitter, in 2020,  they're most widely known for being a necessity for Instagram. They're also used on TikTok, LinkedIn, and now Pinterest, but Facebook hashtag usage is still lagging behind other platforms. 
Here are my answers to some frequently asked questions I hear when it comes to using hashtags. 
How do I research hashtags on Instagram?
First things first: When creating your hashtag strategy, it's important to look at your content pillars, which are the 3-5 main subjects you want to talk about on social. For example, a hospital may have pillars like wellness tips, job opportunities, hospital news, and employee spotlight.
You can use tools from companies like Later to generate and suggest hashtags. Here's what my personal process looks like, though:
Open the spreadsheet and create two sheets. In the first one, list 5-10 accounts who are successful in the industry. 

Look at each account's recent nine posts and copy/paste the hashtags they're using into the column next to their name. 

Analyze which are the most used hashtags and go back to Instagram. Search for each of the top 20 or so. I find the most success in using the ones that have between 1,000 and 10,000 posts, and anything outside of that range gets removed from consideration. 

In sheet number two, create a column for each content pillar and add in the applicable hashtags for each category from step 3. There will be overlap, and that's okay. 
Having these lists ready to go when posting on Instagram saves time having to come up with them when you're ready to post and guessing what will be most effective. Remember, though, Instagram allows for a maximum of 30 hashtags, so make them count. 
That seems like a lot of work.
And that doesn't seem like a question. But, yeah, it's a bit of work. If you don't have time or don't want to do it my way, definitely check out Later, Buffer, or most other social media scheduling tools. 
(Or you can always hire us to do it for you. We're really good at this stuff.)
Where should I use hashtags?
To get the most bang for your marketing buck, I'd stick with using hashtags mostly on Instagram and Twitter and sparingly on LinkedIn. TikTok and Pinterest both have hashtag capabilities, as does YouTube. For these platforms, however, you should be careful to make sure your tags are extra relevant to your content.  I don't recommend using them on Facebook. While the functionality is there, people don't necessarily search using them as they do on Instagram and Twitter. 
Are hashtags even necessary?
Well, yes and no. As mentioned above, they're definitely not necessary on Facebook, but if you're trying to land new customers on Instagram, you absolutely need to be effectively using hashtags because that is how people search on the platform.
Which hashtags should I use to go viral?
Oh, honey. Virality isn't that easy. There's no real good formula for it. Just continue to put out quality compelling content for your audience. It's better for 10 of the right people to see your content than 10,000 of the wrong people.
Can hashtags have hyphens?
Nope. You can't use hyphens in hashtags, nor can you use spaces or other special characters. The one exception is using underscores to separate words, but use this incredibly sparingly. Keep it to just letters and numbers. 
Where should I put my hashtags within my text?
Personally, I prefer to put them at the end of my posts on Instagram and Twitter. If you can use one organically in your caption/tweet, do it, but just one or two. There's a theory that Instagram's algorithm likes it better when you post your hashtags as the first comment on your post rather than the caption. I've done a couple of experiments with this and haven't found a big difference in reach or engagement either way.  
Do you have any other questions about hashtags? Head on over to our contact page! We'd love to talk.